Uniform
---

Please click here to place your uniform order.

'Together we can…celebrate our uniqueness'

As we opened the school in 2009, parents chose to create a uniform. They chose Mayflower Community Academy as the name of our school, the uniform colour and our logo.

Since then, we have run with these collective decisions and created a menu of uniform choices that aim to give all pupils the chance to align at being with Mayflower,

but also make individual choices in their appearance and stay unique. As a community we regularly review these choices and often update options based on requests and

ideas. We aim to keep things simple and accessible for all families.We will now unpick how we do this within our uniform options. All options are deliberately unisex and can

be available in both branded or unbranded options.

---
---
Keeping things simple
We have listened to what families want and currently work with a local provider named Footprint to hand make our uniform choices. There have been many benefits to this choice of provider. They have worked with our pupils and families to design a range of uniform options. They are local and parents can visit their factory, watch their uniform being made, meet the team and arrange bespoke clothing alterations. Pupils who need unique tailoring options, such as larger or smaller alterations, can be uniquely catered for. The material used to make our uniform has been deliberately chosen as a soft to touch and cater for all pupils with sensory needs, non fade and hard wearing option. One purchase should be enough for as long as a pupil remains in size. We will review uniform providers for best value on a regular basis.
Parents wanted a range of design choices with a range of price marks. All our Footprint uniform is designed to achieve these goals and deliver on the wants of our parents and pupils. Our uniform colour, although quite pretty, is more difficult to source than a more regular colour like black or white. Parents are able and welcome to clothe their children in non-branded versions of our uniform as well as source non-branded items from other uniform providers where they feel they can source their version of best value.
We will support all our families to feel part of Mayflower, uniform was the choice of families, and we aim to make life as simple as possible. With our 'Together we can…' ethos we upcycle worn but loved spare uniform that parents can access. Old uniform as landfill is not cool to us. We are interested in how old uniform can be turned into other useful items such as bags and hairbands etc. All ideas are welcomed.
---
A menu of choices to help pupils stay unique
Our uniform offer provides families with a menu of options to mix and match and choose from. Our intention is to allow pupils feel part of Mayflower but stay unique. Pupils in Nursery are free to wear uniform, but do not have to.
Our basic uniform is a plain white shirt, plain black trouser / tracksuit bottoms or skirt and plain black footwear. None of these items need to be branded. The jumper option is varied, and again, can be non branded if families prefer.
There is no separate uniform for seasons such as Summer. The basic uniform can be worn all year avoiding extra cost during the Summer.
PE Kit is essentially the same white top and black bottoms, but with a hoodie or soft-shell option for warmth. If parents preferred to purchase only one item of outer colour aligned uniform – the hoodie is the option to go for. It can be worn for all parts of school life. Equally, unbranded options can of course be worn in school, and if branded is not desired, we advise parents to provide a simple black or best match jade or grey hoodie to be worn for all parts of the school week.
When we take pupils out on school trips, we would mostly be wearing uniform to aid quick location of pupils. This, however, will depend on the type of trip and will be clarified before venturing out.
---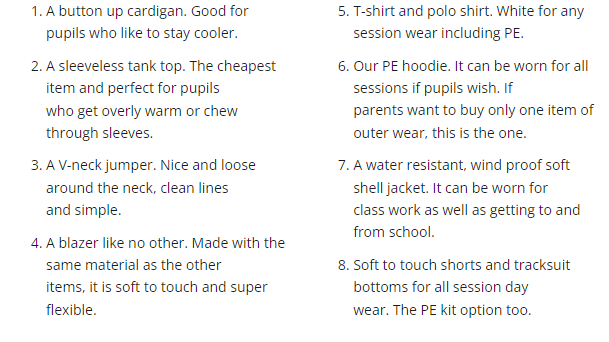 ---
Colour change as children age
An extensive range of worn, but still loved, uniform is available to all families. Our community also regularly come together to mend, fix and make available worn uniform too. Together we can…in action.
They wanted a colour change to give a different sense of maturing. We delivered on his, but if parents wish, they can continue wearing uniform from previous years. We would never advocate creating unnecessary uniform waste.
Pupils asked for a change in colour option so that they moved away from wearing the same uniform option at the age of 11 years old as they did when they were in early years.
In Years 5 and 6 pupils can move from wearing a Rio coloured outer layer to a light grey.